HOME :: LOCATIONS :: SUNZA :: CONTACT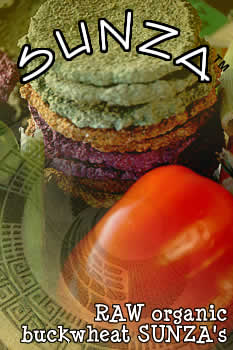 Germinated Mixed Seed SUNZA's (tm)
Buckwheat is not a cereal like wheat or barley, but rather, belongs to the rhubarb family and is an herb of the genus Fagopyrum. Buckwheat groats are a powerhouse of nutrition, containing all eight essential amino acids as well as B vitamins, vitamin E, iron, potassium, and phosphorus. They also contain rutin (a bioflavonid) not found in other grains which helps strengthen the capillaries and helps people suffering from arteriosclerosis (hardening of the arteries) or high blood pressure.
Buckwheat is the only significant source of Vitamin K, which, although similar to rutin, is necessary for the proper functioning and absorption of vitamin C. Formerly considered to be low gluten, buckwheat has recently been considered to be gluten-free, especially in it's sprouted form.
At TerraTree, we sprout our own buckwheat and mix it with local, organic produce ently coming straight from farms. We then dehydrate the SUNZAS at low temperatures (110 F) for up to 36 hours. Since vegetables and even grains from farms vary from crop to crop, each batch of SUNZAS may not be exactly the same. It's the way nature works and therefore, each batch is unique and has its own special qualities.
We currently produce the following flavors of Buckwheat SUNZA's:
Kale
Swiss Chard
Spicy Red Cabbage
Carrot
Beet Root
Curried Sweet Potato

*NEW!*

Fennel Caraway

*NEW!*
Since SUNZA's are always made with high quality organic ingredients and are 100% raw, they are a living whole food. This means that they provide you with nutrition superior to what you would get from cooked food, every time. They fill multiple rolls in any diet, such as:
replace croutons in a salad
replace cooked crackers as a snack food
travel food
source of quick energy when you don't have time for a full meal
and what ever else you can imagine!
The uses of SUNZA's are very diverse. We have all sorts of neat recipes and ideas to share with you, which will be available shortly. In the meantime, we'd love to hear from you! If you have a cool idea of your own or a story to share about SUNZA's, take a second and let us know! Your input may even end up showcased right here!